Ladies Christmas Coffee
December 14th, 2023 from 7:00 PM – 9:00 PM
Doors open at 6:30 PM to view the elegant table artistry and silent auction items
The Regent 6437 Watson Road, Riverview, FL 33578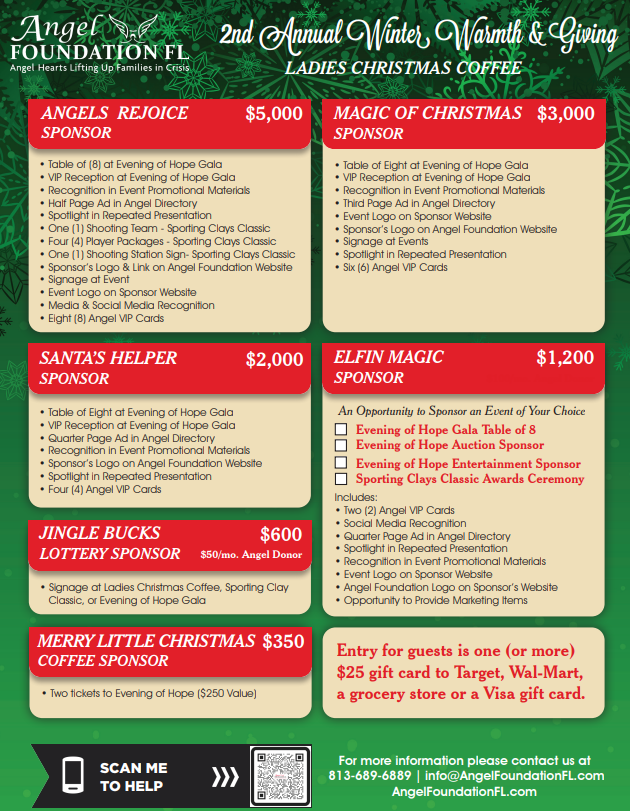 2nd Annual Ladies Christmas Coffee
December 14, 2023 | 7 pm – 9 pm
We invite you to come and join us for our 2nd Annual Ladies Christmas Coffee event to help the Angel Foundation FL collect gift cards to help our Angel families throughout the whole year.
Table Hostess decorate their table with a theme of your choice and cost is $25 which includes finger sandwiches, fruit, desserts, coffee and tea for their table. Hostesses invite 7 of their friends whose admittance is a $25 Walmart, Target, grocery store or Visa gift card.
Guests will enjoy a wonderful evening to celebrate the holiday season with entertainment, a presentation by our Junior Angels and will hear inspiring testimonies from Angel families who have been served by the Foundation Angel program over the past year.
If you would like to be a Table Hostess, attend as a guest, donate an item for the raffle or silent auction, or become a Business Sponsor, please contact our Event Chair, call Lisa Wheeler at 813-967-3694, email lisa@lisa-wheeler.net, call the Foundation office at 813-689-6889 or complete form below. 
To register as a Table Hostess or Guest, click here.
The Mission of the Angel Foundation is to partner with businesses and individuals to be a caring resource for families in our community experiencing temporary crisis due to a life-threatening illness or catastrophic event.