Angel Foundation of Florida
Building Business from the Heart Networking Group
Building Business from the Heart Networking Group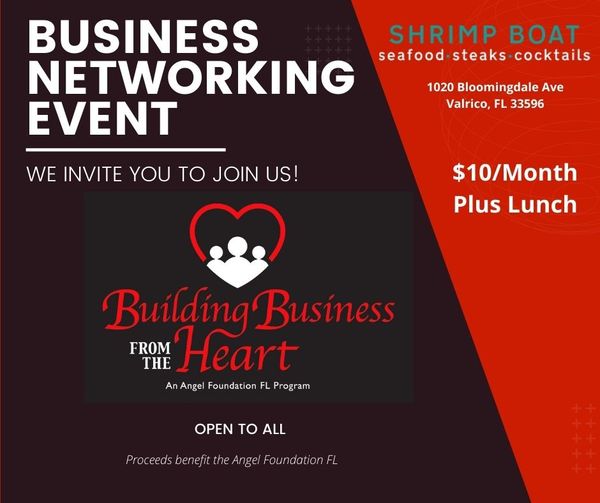 The Angel Foundation FL believes our community is supported by families, businesses, and organizations that come together with the goal of sharing ideas and collaborating to solve community issues. We also want to support those that support us. Join us each month to grow your business with dynamic and caring individuals who have a desire to serve our community in a powerful way.
Membership is $10 per month and gives you the opportunity to present your business in two 30-second infomercials as well as a 10-minute Presentation on a rotating basis.
Join our Angel Friends Network for $300 and your membership is free along with other exciting benefits. 
Come and bring a friend who's first visit is FREE!
Families in crises need your help!
Your time, talents and treasure are our greatest asset.
We cannot achieve our mission without the help of our community. Your time, talents and treasure are our greatest asset. Be part of something bigger than you by being a part of this wonderful organization.
If you are interested in becoming a volunteer or offering your services on behalf of the Angel Foundation, please contact our office
Please contact our office at (813) 689- 6889 or click on the "Learn More" button to sign up!